Jun. 21, 2021
The application of automated equipment to production is an unstoppable force in all industries, and the food industry is no exception. However, concerns lurk in the back of your mind. The fear that such an investment will cost you a fortune and that neither the quality nor the productivity will meet your expectations.
As a professional food forming machine manufacturer, Seny has won the top 10 gold medal manufacturers several times in Chinese food machinery. It is not only the leading enterprise in; Chinese food molding equipment industry, but also the enterprise with independent import-and-export rights, approved by the State Foreign Trade and Economic Cooperation Bureau and the General Administration of Customs.
We are here to tell you how worthwhile it is to buy an automatic dumpling machine.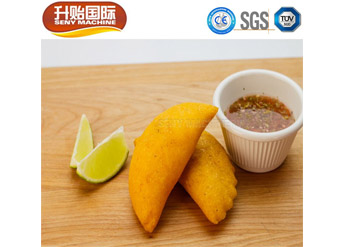 Applications of Small Dumpling Making Machine
1. Productivity is the main advantage
The biggest cost of dumpling wrapping is the labor input. Wrapping gyoza in a nice and neat way is a labor-intensive task with a "skill threshold. The time and money required to train workers for the gyoza production line are expensive. And, no matter how fast and experienced the gyoza workers are, no one can beat the machines when it comes to productivity.
Of course, you can always hire more workers to increase productivity, but with unstable orders and demand, this can lead to more than you can afford. That's why we recommend the SY-200 Small Dumpling Making Machine.
2. Quality first
There is no denying that hand-made dumplings taste different from machine-made dumplings. The pressure of the fingers creates a special texture for the gyoza skin. Therefore, narrowing the taste gap between handmade and machine food has always been our biggest challenge. However, we never stop looking for the best solution for you.
The quality and taste of your food are the pride and most valuable asset of a food supplier. You would rather maintain food quality at a high cost than provide your customers with a product you can't approve of. That's why we developed the SY-200 Small Dumpling Making Machine. The Small Dumpling Making Machine retains the elasticity of the gyoza skin and uses an innovative forming method to make gyoza. The Small Dumpling Making Machine solves the problem of heat and dough gelling due to extrusion by rolling the dough into thin sheets without squeezing the dough with a screw.
For the filling, the small dumpling making machines turnover molding machine was developed for vegetable filling. To solve the problem of over-extrusion of vegetable filling, we have developed a special extrusion system to retain the crunchy texture of vegetables.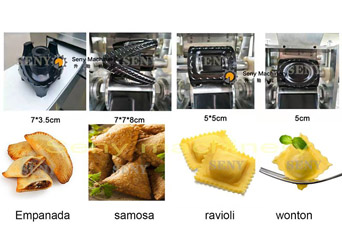 Applications of Small Dumpling Making Machine
3. Multifunctional automatic dumpling equipment. You can have it all.
To meet all the requirements and demands, we show you the multifunctional gyoza-making machine. You need a machine that can wrap dumplings. By changing forming molds, you can produce sandwich pastries of different sizes, fillings, and shapes.
Advantages of Small Dumpling Machine
1. Machine-made y stainless steel material, food safety guaranteed.
2. Changed different molds can produce samosa, empanadas, flower-edge dumplings, fried dumplings, round and square dumplings, etc.
3. The dough thickness and filling quantity are adjustable according to your demand.
4. Easy to operate and widely used in home, restaurants, school canteens, etc.
We know that applying automation to food production can be daunting for beginners. In order to introduce automation to food suppliers, Seny offers comprehensive operating guides, recipe advice, and free trial runs. If you find that this eases your concerns, you can rest assured that we will provide the best technical support and after-sales service. If you want to get more information about the high quality small dumpling making machine for sale, welcome to contact us.