Nov. 11, 2020
Easter or Eid, no holiday in the Levant would be complete without a high-oil cookie called Maamoul. Stuffed with date jam or chopped walnuts or pistachios and sprinkled with powdered sugar, these butter-sweet cookies are the perfect reward after a month of fasting during Ramadan or Lent.

The dough is made from wheat flour or semolina and pressed into special moulds traditionally made from wood carvings. The filling is full of rosewater or orange blossom aromas.
Traditionally carved wooden molds were used to give the Maamoul cookies shape and form.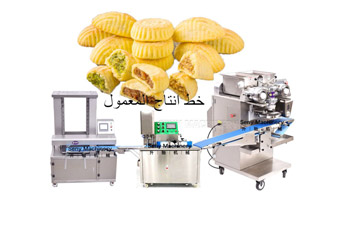 In the weeks leading up to Easter, Beirut's sweet shop, Helwayat al-Salam, became a veritable Maamoul factory. Owner Mitri Hanna Moussa doused the dates with seeds in rose water and then ran them through a meat grinder to make a paste. Mitri's mother, Samira, a small, old woman with wrinkled hands but beautifully manicured nails, sits at a makeshift table arranging pistachios. She made sure that neither shell spots nor single wrinkled pistachios entered their famous biscuit. When all the ingredients are ready, Mitri and his assistant knead the balls from their semolina dough. They shaped the dough balls into small cups and filled them with dates paste, pistachios, or walnuts.
Samira then presses each filled ball of dough into an antique wooden mold, knocks it against a stake, and throws out a perfectly formed cookie ready to bake. In just a few minutes, the three men had dozens ready.
"I do maru in the winter, but it's a must for Easter," mitri said. In a country where many Christians give up dairy, sugar and meat during the 40-day lenten fast, luxury cookies are a welcome reward at Easter.
Mitri says his father, Hanna, opened a dessert shop in 1949 in a busy corner of The predominantly Christian Achrafieh district of Berutt. Back then, they didn't even have an oven. So a family prepares candy in a store and takes it to a nearby bakery to bake.
"My father bought our oven in 1973 or 1974 and it was already second-hand," Mitri said. Like Helwayat al-Salam's crumbling building, the ovens bear the scars of Lebanon's civil war, which raged from 1975 to 1990. Mitri pointed to pockmarks on the oven door. "It was shrapnel," he said. "There are bombs even on this street." The family hid in a bomb shelter, but when they got back to the shop, there was glass everywhere. "We cleaned it up and moved on because it was Easter, which was special for us."
Mitri moulded it using two kinds of semolina and added rosewater and neroli to the walnut and pistachio fillings. Before eating, he put a little powdered sugar on the praline, but kept it until the date, "because it was already sweet."
Our company has Mooncake Production Line on sale, please contact us.