May. 26, 2021
All industries are facing serious challenges under the threat of coronavirus, and the food industry is no exception. Lack of human resources and safety make automated machinery the best choice. Automated machines are more efficient, more hygienic, and can save time and manual processes for labor-intensive tasks.
Affected by the epidemic, the food industry was forced to modify its production method. The building of smart factories has become a trend. Shanghai Seny Machinery is a famous food machines manufacturer that specializes in developing machinery for food automation and food filling technology. Seny Machinery gathers upstream and downstream manufacturers to provide customized services, helping customers develop new products.
The bakery industry is ready to welcome the beautiful spring season with the launch of exquisite pastries. For the bakery industry, exquisite pastries not only add value to the product but also enhance the brand image and generate higher revenues. Now, let's take a look at the exquisite treats that automatic french baguette bread making machine can produce!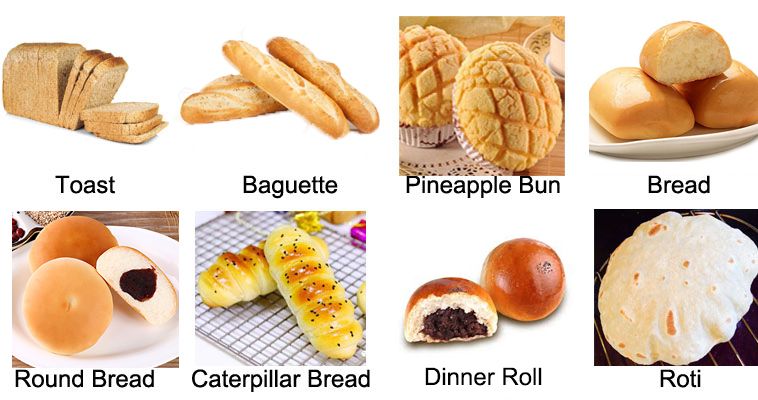 Applications of Automatic French Baguette Bread Making Machine
Features of Automatic French Baguette Bread Making Machine
floss bread, hot dog bread, steamed bread, French bread, toast bread, red bean bread, stick bread, pineapple bread/pie, round bread, baguette, roti, pita, chapati, paratha, flatbread, tortilla, etc.
Advantages
1. All machine 304 stainless steel material, consistent with food safety standard
2. Bread size, weight can adjustable by Panasonic PLC screen(Language: English/Arabic or customize)
4. No harm to the dough, imitate handmade keep bread nice taste
5. Change mold, cutter, and spare parts can produce different products as you need
6. High Capacity:20-120 pcs/m or 40-240 pcs/m
7. Our bread machine is all of superior quality and adorable direct, all of our machines and separate parts are all SGS, TUV certified & have CE Certificate. Quality is Seny's soul.
Triangle-shaped Samosa originated in the Middle East, arrived in India, and became the popular comfort food all over the world. It's filled with mashed potatoes, nuts, and then it's being deep-fried until it becomes golden and crispy. Samosa is delicious with mint sauce or sweet-and-sour sauce. It is a must-try food on Eid al-Fitr.
SY-200 Small Samosa Making Machine can change different molds to produce all kinds of dumpling products such as Samosa, Ravioli, or dumplings…etc. Samosa Making Machine is not only suitable for the production of lubricated stuffing such as meat, cheese stuffing, jam stuffing, mashed potatoes, or cooked meat but also suitable for making vegetable stuffing.
As a specialist food processing machinery manufacturer, Seny Machinery focuses on modifying details, which not only increases productivity and stability. In addition, we take the taste of mechanical food to a new level. Thanks to advances in automated production technology, the taste, and appearance of mechanical food are comparable to that of artisanal food.
Experts from food, machinery, CNC automation, and other fields focus on the needs of enterprises, devote themselves to research and development of food deep processing machinery, accumulate scientific research results, introduce core technologies, and make Key breakthroughs in food line equipment such as baking, cooking, quick freezing, and pastry from scratch. The superb production of food machinery is of high quality and well trusted by partners. It has won the top 10 gold medal manufacturers several times in Chinese food machinery.